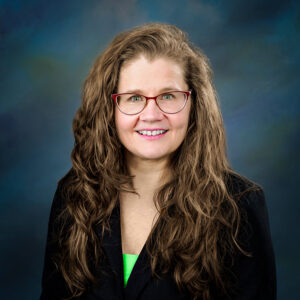 Pleasant Solutions Founder Naomi Stein leaned into business ownership by launching a grant writing company. Here she shares her journey and what she's learned along the way.

Give us a little background. Have you always wanted to start a business or had an entrepreneurial spirit?
Good question. After college, I spent a few years as a tech at a local TV station before getting another tech job at a large media company. From there, I became a resource coordinator at the same company, which is more related to the work I do now.
In the back of my mind though, I always fantasized about what it would be like to own my own business. But I never did anything.

So, what changed?
I reached a point where what I was doing wasn't enjoyable or meaningful. I needed to do something different. I wanted to have more freedom, control, and flexibility and I wanted to do something fulfilling.

How did you come up with the business concept?
I knew I wanted to do something else, but wasn't sure what. A friend of mine asked if I'd ever thought about doing grant writing. I hadn't but decided to look into it.
When I researched what went into grant writing, I saw that it's not just writing, which isn't my strongest suit. It also involves researching, learning, and budgeting. I love doing research, I'm a life learner, and I'm also a numbers person.
Grant writing had all these elements I knew I could do well and enjoy. I also liked how it benefited organizations and helped them solve real problems, so I saw how it could be fulfilling work, too.

How did you get started launching your business and when did you start?
In 2021 I tried launching Pleasant Solutions while I was still working full-time. I wanted to be organized and established before leaving my corporate job.
Through research, I found Learn Grant Writing, an online organization based in Alaska that taught grant writing skills. Learn Grant Writing is such a supportive community, which makes them really helpful, especially for someone who was just starting out.
After taking the free introductory class, I knew this was what I wanted to do—and was supposed to do.
I took their more in-depth courses and joined their Grant Writing Collective, which is a coaching program and an online community of other grant writers all over the country at different levels or experiences.

Did that help you learn how to build the business?
They walked us through how to start out at the beginning without getting too overwhelmed, like doing freelance part-time to get the experience and get yourself out there. As I said, I was trying to do this while working full-time and found it was a challenge to do both. In early 2022, I left my corporate job to fully focus on building the business.

Were there additional challenges?
The biggest challenge was trying to figure out how to launch my business without having the security of a full-time job with benefits. One thing that made it easier was doing some work with my family's computer sales and service and IT business, which is based in Boone, NC.
I'm part owner but never got very involved with the business because I didn't have the time. Now, I work remotely part-time doing customer and administrative services; it helps financially and provides me with an opportunity to work with my family.
Marketing and building clientele was another challenge because I'm not a brick-and-mortar or online store that sells products, so doing mailings and direct sales doesn't necessarily work for me. I provide a service, which means I'm really selling me.
People need to know me and trust me. It's important to work on establishing who I am and creating relationships. It takes time.

How are you making those connections?
The grant writers collective that I'm a part of encourages you to reach out and have informational interviews with other grant writers, organizations, and departments that work on grants. This way you learn about different pain points and how others approach grant writing. They're information-gathering conversations.
The goal is to walk away with three contacts or three referrals from people who might know someone who could use my help. It's an informal sit down with coffee, either in person or virtual, which is less intimidating than a meeting where you're trying to sell yourself. Instead, you learn and make connections and create a network.
I've been using that as a marketing tool. I'm always open to new marketing ideas, too.

Tell us about your involvement with the Middlesex Chamber of Commerce and MEWS+.
I left my corporate job in early 2022. Around that time, I ran into Reboot Eco Founder Yasemin Ugurlu at a local farmer's market. We got to talking about small business ownership. When I told her what I was doing, she suggested becoming part of the MEWS+ StartUpMX business program.

What did you gain from the experience?
It was a really good experience and very helpful. We went through the different steps involved with business ownership, including writing a business plan, marketing your business, and putting together a pitch.
Being part of the MEWS+ helps me connect with others. I've been able to learn about other folks who participated in the program at the same time as me as well as graduates. Everyone shares about their journey in creating their business—and each one is unique. Even after the program, the MEWS+ has continued to be a great support if I need anything or have questions.

Why did you become a chamber member?
I stopped into the chamber to learn more about membership and the MEWS+. After the program, I officially joined the chamber because I knew it was a good place to be connected and the networking opportunities would be helpful.

What's your biggest lesson learned so far in your entrepreneurial journey?
Once I left my corporate job, I realized I could jump in and do this. Most people believe there's only one path: You go to college and then you have to get right into the working world and have a full-time job with a regular paycheck and benefits. Then you need to work hard and work your way up to be financially secure. But in reality, that can be very limiting and it can get you stuck.
You can get into a job that's not fulfilling doing something you're not passionate about. Many times people end up doing jobs unrelated to what they studied in college.
I think that belief isn't necessarily true. And times have changed. It's possible to do it on your own. You just need to see things from a new perspective. When you're a business owner you have to look at things a little differently, like how to handle marketing or connecting to people. It actually makes you more creative, thinking-wise.