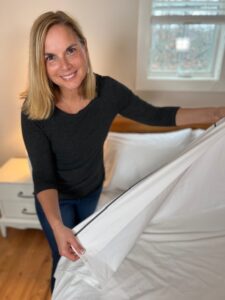 Entrepreneur Michele Wytas shares about transitioning her idea into a reality and launching her business, Toesty Sheets, an innovative semi-fitted top sheet that stays in place and doesn't require any tucking.
"I've made plenty of mistakes but part of business is learning from them—and knowing that if this doesn't work, I'll come up with something else. The key is learning these skills and lessons to keep the business growing."
Give us a little background. Have you always been entrepreneurial?
This is my second business. I'm also a freelance designer. My background is in digital design and animation, so the things I've created get shown and then kind of disappear. I always thought I'd like to design something more tangible.
How did you come up with the concept for Toesty Sheets?
The idea came to me one weekend when I was staying in my summer home. I accidentally brought two fitted sheets—and I like having a top sheet. I ended up hooking the bottom of the fitted sheet and pulling it up like a top sheet. My makeshift top sheet stayed put all night.
At the time, my kids were younger and they would typically lose their top sheets every night, even after I'd tucked them in. After that night in the summer home, I thought it would be great to create a top sheet like this that could stay in place.
How did you discover additional niches?
When my father ended up in a convalescent home, I noticed he had a hard time getting comfortable in bed. He couldn't sit up well and his sheets were constantly getting untucked or tangled. I realized the elderly were another viable market—and it could be a useful product for others too.
Toesty Sheets are well-suited for those who dislike making the bed for themselves or their family, those who are bedridden, or those with mobility limitations that make it challenging to lift a mattress and tuck sheets in place.
When did you launch the business?
I started in 2018. I came up with the sheet design and then I spent two years doing research to make sure the idea was viable, getting a business plan together, securing a patent, making samples and tech packs, and then finding a manufacturer. With my background, I designed everything from the logo to the website.
Did you utilize any local business resources?
I accessed SCORE and the Connecticut Small Business Development Center (CTSBDC). The mentors at the CTSBDC helped me register the business and perform market research to examine trends and ensure my product will be viable. The CTSBDC also connected me wherever they could along the way. They're a useful resource. Without them I would've been lost.
How did you start manufacturing the product?
I had started making the tech packs and samples. I knew I needed to find a manufacturer, which was challenging because I don't know anything about the manufacturing industry. I've never made anything like this before. And it's risky because you're sending thousands of dollars to a manufacturer and hoping they make your product the way you intended.
Originally, I wanted the manufacturing to be done in the United States, but I ended up choosing a fantastic company in India. They grow all their cotton there and they do beautiful work. They've been helpful in walking me through the manufacturing process and answering all my questions.
What other challenges have you encountered?
When the pandemic hit, manufacturing was halted, so that slowed production. My next challenge has been marketing and getting people to see the product and become familiar with it. It's not that easy, but once people see the sheets and understand the concept they love it.
I've brought Toesty Sheets to farmer's markets and some bigger shows and spent time listening to my audience, so I've gotten to know my demographic. It's been a long learning process but now the business is slowly growing.
Any lessons or advice for others?
Tom Hanks said, "If it wasn't hard, everyone would do it." I agree. It is hard but I know in my heart I've created a great product.
The other thing about entrepreneurship is, you have your ups and downs. There are days you want to give up and then you have highs like this, where someone asks to interview you. Or you get a sale or a customer writes some positive feedback. Those highs give you that push for the next thing.
What's next?
With manufacturing, you're required to manufacture a certain amount. Because I bootstrapped everything myself, we had to choose one color and one size. Now I'd like to start another run. I'll probably launch a Kickstarter for that, so we can offer new colors and different sizes.
I have a goal I'd like to reach in mind. I also set a timestamp of five years to see where this business goes. If it doesn't succeed like I want it to, then at least I know I tried. Because the worst thing I could do is not create the product and then see it somewhere else later or say, "What if?" I'm not a "what if?" person. I'm someone who's going to try.
I've made plenty of mistakes but part of business is learning from them—and knowing that if this doesn't work, I'll come up with something else. The key is learning these skills and lessons to keep the business growing.