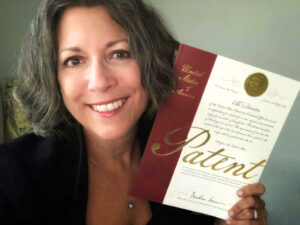 Valerie Guglielmo, of Chester, is the creator of the SnozzlePro – a solution for anyone who has struggled with hair dryer attachments.
Recently, Caren Dickman, The MEWS+ Coordinator, spoke with Valerie about the genesis of the idea, how she developed a physical product, and some of the lessons learned along the way.
"I had an everyday problem that made me crazy. My hair dryer's concentrator nozzle constantly popped off and I would burn my hand picking it up. I searched for a new attachment to fix this problem but learned it didn't exist. So, I decided to create my own solution."
Please tell us about your solution. What is a SnozzlePro?
SnozzlePro is a hair dryer nozzle adapter made of silicone. Its patented design fits most hair dryers and gives attachments the fit and grip they need to stay put. It also protects hands from burns on hot attachments.
How did you come to give it that name?
SnozzlePro comes from the combination of "silicone", "nozzle" and "professional." It's a fun name that people easily remember.
What type of work did you do before inventing the SnozzlePro?
My career has mostly been in marketing and public relations – for the last 20 years at the CT Lottery and prior to that for a number of golf club establishments. I'm creative by nature and enjoy a variety of work, including graphic design and photography. When I was younger, I also worked for my parents who owned and operated a successful family business.
How does someone with a background in marketing design a product? You make it sound so simple, but I'm sure it's not.
You're right, it wasn't simple! My first SnozzlePro prototype was made from parts of another silicone product I had at home. Once it worked well on my hair dryer, a large beauty retailer let me test SnozzlePro's fit on all 50 hair dryers on display in their store. Next, I asked professional hairdressers to test SnozzlePro on their blow dryers to get their feedback.
In the meantime, the U.S. Patent and Trademark Office granted me a design patent on March 25, 2020; the SnozzlePro name was trademarked on May 19, 2020, and finally a utility patent was granted on October 19, 2021. It was quite a process.
How long was it before you made your first sale?
Finding a manufacturer was a challenge until I found a "serial inventor" on LinkedIn who was also a consultant. Since it was too costly to manufacture SnozzlePro in the United States, he connected me with a qualified manufacturer in China who was more affordable and willing to work on a smaller scale.
Do you worry about another company creating a "knock-off"?
Knockoffs are a concern of any inventor, but I try not to focus on that. In the early stages of product development, it's very important to get a signed nondisclosure agreement before revealing your idea to anyone.
Who are your customers – individual consumers, hair salons?
My customers are predominantly curly-haired women who style their hair at home and professional hairstylists in salons. SnozzlePro is sold in the U.S. and internationally through online retailers in the UK, Germany, Spain, Australia, New Zealand and Canada.
How do you reach your customers?
Mostly through social media influencers in the U.S. and abroad. Their enthusiasm for SnozzlePro has been tremendous for driving traffic to my website and Amazon.com.
What or who helped you the most as you launched your business?
Many people have helped me, but the most important person has been my husband, Joe. The poor guy listened to me talk endlessly about SnozzlePro's development and supported me all the way. My parents also provided ongoing encouragement and showed me what it takes to run a small business.
What are the biggest business challenges you have encountered?
The biggest challenge has been the slow delivery of new inventory from overseas due to workforce and supply chain shortages. As a result, I've had to place larger than normal orders with my manufacturer to compensate for the lag time and stay in stock. In addition, prices overall have increased because of the soaring demand for delivery services and shortage of employees. Despite these challenges, I have not increased my price and I remain hopeful that these issues will eventually settle down.
"If you're considering inventing a product – be prepared. It isn't easy. It takes a lot of time, money, and perseverance. Before investing any money, do your research and take advantage of the many free resources available."
In what ways has the pandemic affected your business?
I believe the COVID pandemic initially helped my sales because more people were shopping online for all kinds of products. But, now my profit margins are lower as manufacturing and shipping costs continue to increase.
Have you encountered any pleasant surprises during your time in business?
My greatest surprise was being selected to compete on "Everyday Edisons," a reality TV show created to inspire and educate inventors as they bring their inventions to market. SnozzlePro won a cash prize in episode 1, which aired in February 2020, right before the COVID-19 lockdown. The whole experience was thrilling.
What is the most important thing you've learned so far?
The most important thing I learned was to keep my "eye on the prize" and to keep moving forward in small, manageable steps. If you're feeling tired or overwhelmed, take a break, but don't give up. There were many times I felt like giving up, but I'm so glad I didn't.
In your opinion, what is the key to being a successful small business owner?
For me, it's keeping an open mind in problem-solving situations, being responsive to customer feedback, and being prepared to work hard when it's needed.  I learned all of this firsthand from my entrepreneurial parents.
What one thought motivates you every day?
My motivation is to help my family build a strong financial future, especially as I look to retire from CT Lottery in the next few years. The possibility of building SnozzlePro into a legacy business for our daughters is also something that intrigues me.
What would you like your business to look like in 5 years?
That answer is evolving. Initially, I wanted to license SnozzlePro to a company that would manufacture and sell it, but now that I've proven I can do that myself, I'm open to other growth opportunities.