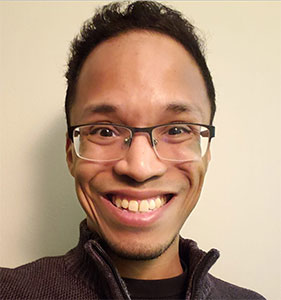 James Cant is the CEO of Local Business Protection in Middletown, Connecticut, and participated in the MEWS+ StartUpMX incubator program in the Spring of 2021.  Several years ago he found his niche in Google mapping. James Cant started Local Business Protection in October 2019 and became an LLC in February 2021.
Recently, Caren Dickman, The MEWS+ Coordinator, chatted with James about his entrepreneurial journey.
James, you tried a variety of businesses before finding the right thing. How did you know it was Google mapping?
Prior to starting my own business, I worked in digital marketing for 3 years. My job was to help other businesses with their google ranking by targeting google maps. I enjoyed the challenge of helping businesses grow with the service I provided and knew this was the niche for my own business. Local Business Protection is a software company that seeks to supercharge its clients' Google map ranks and safeguard their google map presence from SPAM.
Tell us more about Google mapping.
Local Business Protection removes and monitors the SPAM that is harming their map presence. SPAM could be costing our clients thousands of dollars in lost opportunities. When fake companies pop up on google maps, it causes legitimate companies to lose a percentage of google traffic. As a result, they lose money. This becomes a game of 'whack-a-mole.' As soon as you knock out one fake business, another one pops up."
Removing it gives local companies more opportunities for new business because their google rankings will be higher. Local Business Protection uses a sophisticated system of tracking and monitoring fake business activity for continual protection.
Why are Google mapping and Google ranking so important?
Local businesses don't have large budgets for marketing. Instead, they rely on the free organic traffic in Google Maps. If their Google Map traffic were to vanish, they could quickly go bankrupt. It is this dependency on Google Maps that drives people to create false competition, capture the free traffic, and sell it back to the businesses.
This sounds like a service that every company needs. How are you marketing it?
This is a bootstrap company that is growing by word-of-mouth and Facebook messaging. I want to keep it this way until all of the wrinkles are ironed out. Because I'm a perfectionist, I want the monitoring app we created to be 100% efficient and effective. I refuse to settle for just 85 or 90%. Good enough is not enough. I want great. At that point, I will be ready to bring in a marketing team to start marketing it in a big way.
How did you start your business?
I did not want to go the traditional route of borrowing money because I do not believe in debt. But I am not working alone in my venture. One of my associates is a programmer who has equity in the company, the other associate has a revenue share. My associates are critical to the business and our relationship together is the key to its success. These associates are not just partners. They are partners who bring something to the table, who are as excited about the business as I am. This is what creates the buzz.
"I knew at the age of 18 that I wanted my own business. For the next 12 years, I tried a variety of jobs in search of the right thing. In each job I gave my all but never felt valued."
You were in the early stages of launching your business when the pandemic hit. How did that impact you?
My first client was a nursing home. Because of what was happening at the time in nursing homes during the pandemic, I lost about 50% of my business within three months. I wasn't sure if I could sustain it but I persisted. Since then I have recovered and am doing well.
What is the most important thing you've learned so far in running your own business?
My life experiences have taught me the most important lesson about the type of leader I want to be. I believe in servant leadership. My team gets fed first, and I eat last. As a servant leader, I want to treat my people well. I learned this by watching other leaders create low morale because they treated their employees poorly. I want to be approachable and work as a team.
It's also important to get your hands dirty and be hands-on. Do what everyone else is doing so you can continue to improve.
"When you love what you do, it's not work, it's your passion. Let's have an amazing day and do the best we can to achieve our goal. Let's start with a good cup of coffee and a positive attitude. When your work is a mission for helping others, the money will follow."
What would you like your business to look like in 5 years?
In 5 years I want to be a $1 Million revenue company. At that point, I will have brought in a marketing team to help me get there. I would like to have an optional on-site office where my team can work together. Right now, I'd like the office to be located in India.
What would you like to say to other new entrepreneurs?
My suggestion to other entrepreneurs is this: Be humble, surround yourself with those who know more than you and enter The MEWS+ StartupMX program.